Your Accommodations
Welcome to your new vacation villa.
During your stay in the guest house, immerse yourself in luxurious comfort with the TING's world-class accommodations.
The Guest House
Take in the natural beauty of the Treasure State in elevated comfort. Every need will be attended to in your home away from home. Hosting a party or an intimate dinner? Trusted caterers and chefs will come to you to make unforgettable meals. Want to get the most of the outdoors? Enjoy personal sessions with a yoga instructor, fitness trainer, or fly fishing guide. No matter your needs or desires, TING will deliver the best.
Bedrooms
Sleep well in your home away from home. The luxury guest house villa has two master king suites outfitted with fine linens and bedding as well as walk-in closets with pool towels, bathrobes, and a safe. The bedrooms lead into a relaxing steam sauna and spa-inspired bathrooms featuring a bidet. Both bedrooms are air conditioned.
While the TING is outfitted for four guests, there are also pull-out sofas and comfortable air mattresses that can be set up to accommodate extra persons.
---
Tower Suite
The Tower Suite offers incredible comfort at every touch, from the bedding to the decor. The master bathroom in the Tower Suite features a four-person steam sauna, bidet, vanity, and double sinks. It also has a private hallway leading to the Zen Room.
---
Princess Room
The Princess Room invites you to kick up your feet after a day of play. You will certainly feel like a princess in our specially imported Bali bed featuring superior mattresses and carefully chosen bedding.
Kitchen
The TING is a place for gathering, and food brings us together. Take advantage of an open-concept, fully equipped gourmet kitchen and pantry with an island and a dining area that seats 10. The kitchen overlooks the beautiful Sun Room, so you may dine in beautiful, natural lighting.
If you prefer to dine outside, there are many spots at the TING to do so, including:
A round table on the main terrace that seats six,
A table in front of the pool house,
Or set up a table right next to the pool for a unique ambience.
Sun Room
Floor-to-ceiling windows bring nature to you in this luxurious space. The large windows give you a panoramic view of the beautiful terrace, the valley, and Lake Hauser. Enjoy cozy comfort in lounge chairs and a couch whilst watching fire dance in the gas fireplace or watch your favorite shows on a large flat screen TV with access to Hulu and Netflix. You can also connect your Spotify account with our Sonos sound system, and enjoy your music throughout the entire house.

Office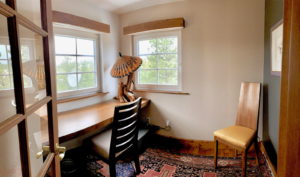 Do you need to stay in touch with your office throughout your stay? The TING has a home office providing undisturbed time to focus on your work. Stay connected to the world with high-speed Internet and great cell phone coverage anywhere on the property. In the office, face the wonderful views with two windows in front of you, and just swivel your chair 90 degrees for a special "peek" window, where you'll see what's going on at Lake Hauser and who's cooking the next great meal in the kitchen.
Laundry Room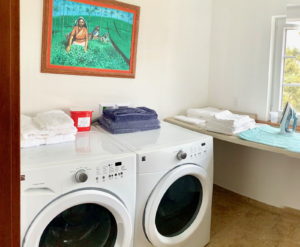 Whether you're staying for a short or long period of time, there is a fully functional Laundry Room with a washing machine, dryer and ironing station with a view of the northern hills.
Gym
Maintain your fitness routine in the TING's spacious gym. It is well-equipped with several machines including a rowing machine, bench press, stairclimber, treadmill, BowFlex and Pilates machine. You also have at your disposal a punching bag and gloves, TRX bands and free weights. The space features soft carpeting, a large mirrored wall and a television. Open the garage door, and you'll feel like you're working out in the great outdoors.
Finnish Sauna and the Lounge Room
Relax and unwind in the TING's Finnish Sauna and Lounge Room. The sauna offers light therapy, one of the world's oldest therapies. Bathe in blue light, red light, or any other color—you can create your desired atmosphere with 46,000 light options and listen to music of your choice through the iPad connected to the Sonos sound system. After your sauna session, cool off in the lounge room before heading out into the wilderness.
BBQ
Enjoy dinner al fresco with an outdoor grill. Cook a delectable dinner for your friends and family and savor every bite out on the terrace. The BBQ area has an outdoor table that seats six.
Outside Terraces
At the TING, there are no bad views, and you can gaze at each of them on the many terraces on the property. On the eastside terrace, you can enjoy a hot cup of coffee as the sun rises over the horizon. Other terraces boast a Jacuzzi overlooking the valley and Lake Hauser, as well as other seating areas, which have benches and comfortable lounge chairs.
Elevated comfort awaits your visit.
Contact us